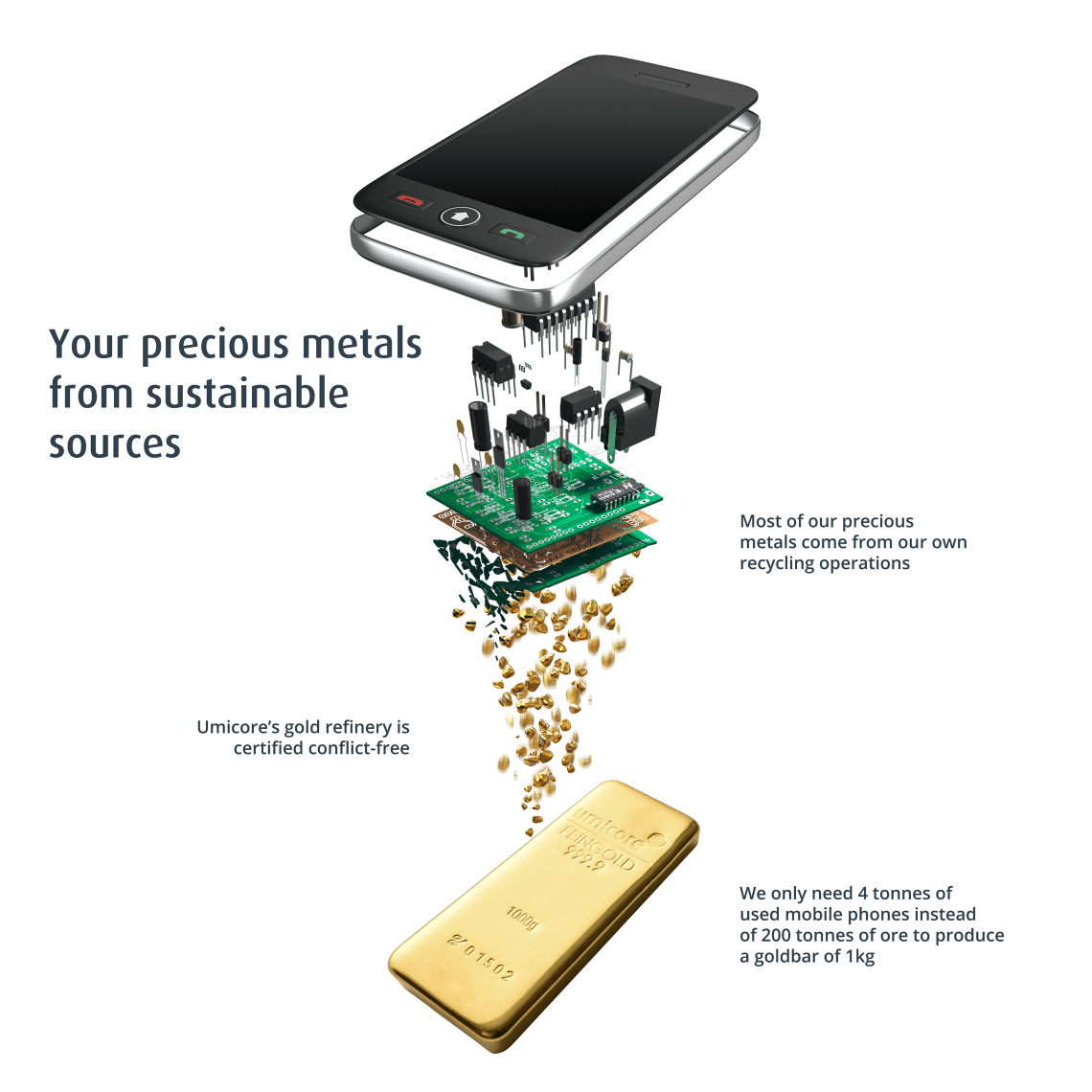 Our sustainability approach
Umicore is committed to sustainable business. We seek to combine economic growth with a responsible contribution to the environment and society. 'The Umicore Way' outlines our values and the way in which we wish to achieve our corporate goals as well as our overall commitment to the principles of sustainable development. Umicore and its predecessor companies can look back on a history of precious metal production that stretches back more than 170 years.
Most of our precious metals come from our own recycling operations
Umicore produces bars that come mostly from precious metals recovered at its own recycling facility in Hoboken, Belgium. The facility is the world's largest recycling facility of its kind and recycles 20 valuable metals from a large range of industrial residues and end-of-life products (e.g. from electronic waste or spent catalysts).
Find out more about Umicore's sustainability efforts as well as our conflict free and responsible supply chain.
We only need 4 tonnes of used mobile phones instead of 200 tonnes of ore to produce a goldbar of 1 kg
 

Annual Report

EU-regulation 2017/821, article 7 / par. 3 (EU due diligence in raw material supply chains)

Umicore AG & Co. KG commitment to the responsible supply of precious metals is especially focused on transparency within the supply chain and on the responsible sourcing of raw materials. As a consequence, Umicore adheres to the relevant applicable standards, as defined in the EU's conflict minerals regulation 2017/821 and in the closely related appendix II of the OECD Due Diligence Guidance (OECD Due Diligence Guidance for Responsible Supply Chains of Minerals from Conflict-Affected and High-Risk Areas).